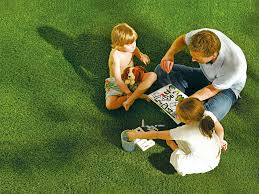 Artificial Turf
EXPERTS ARE HERE TO HELP YOU EXPERIENCE A GREENER WORLD IF YOU ARE LOOKING FOR ARTIFICIAL TURF IN THE BATON ROUGE, LA AREA!
All Seasons Landscaping serves the residents of Baton Rouge, Denham Springs, Gonzales, Prairieville, Walker, and Zachary. We have the tools, products, and expertise you need for superior synthetic turf installations. Whatever your vision is, we can help you turn it into a reality.
We provide the most comprehensive support to ensure that our synthetic turf applications live up to the highest expectations by combining the most advanced artificial turf, cutting-edge installation techniques, the industry's most extensive dealer network, and a commitment to quality.
You can rely on All Seasons Landscaping to install the lawn, putting green, playground, pet area, or any other synthetic turf application you desire.
You can also be confident that All Seasons Landscaping be available to you in the future to ensure that you continue to enjoy your synthetic turf. All Seasons Landscaping considers the Baton Rouge, LA area home, and their customers are family.
The Advantages of Artificial Turf
Artificial turf is an environmentally friendly and cost-effective option for homeowners who don't have the time or resources to maintain a healthy lawn. Artificial turf is both cost-effective and low-maintenance, and it can replace traditional grass in various areas around your home.
Are you tired of your pets destroying your lawn? All Seasons Landscaping installs artificial grass that is specifically designed for dogs!
Installation includes an antimicrobial backing to help prevent odors and a high flow-through rate for drainage.
All installations have child safety in mind and are designed to allow water to flow through to minimize any standing water efficiently. When it comes to watering, artificial turf eliminates the need, which aids in water conservation. Also, there is no mowing.
Installation of Artificial Turf
We start with a site evaluation and preparation, which may include removing your existing lawn, landscape, or hardscape material.
We will cut back, prune, and remove any unwanted existing material if necessary.
We will relocate existing landscape or hardscape material to different areas of your property.
Grading (sculpting or land leveling) is required to prepare your artificial turf for installation properly. We take note of the location of utilities, such as wires, conductor lines, and so on, and mark them appropriately to avoid any damage or disruption in service.
We will relocate, add, or replace existing sprinklers and irrigation lines as needed to accommodate watering needs for other areas of your property.
Another important goal is to direct excess water away from the existing structure and into stormwater drains and basins. We will begin installation once this process is completed.
Let's schedule a complimentary consultation.
All Seasons Landscaping artificial grass may be the right surfacing choice for your project if you want a solution that looks and feels like natural grass without stress and upkeep. To learn more or take the following steps with the All Seasons Landscaping team, fill out the form or call us immediately.
We are here to serve you!